Progress on temporary office space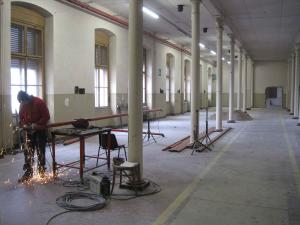 Work begins on the new Manifattura. The renewal project by architect Fabrizio Capuzzo (Trento) for 2500 square meters of the main "Zigherane" building has the aim of hosting the early nucleus of companies: Habitech, Green Building Council, the Sofie consortium, Progetto Manifattura, the MIT-FBK research group, as well as The Hub Rovereto.The tender for construction work was awarded to the group comprised of::
Zorzi Impianti s.r.l.
Costruzioni Pasqualini s.r.l.
Cappelletti s.r.l.