NTC&R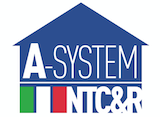 This acronym stands for "New Construction Technique & Redevelopment".
NTC & R produces insulating reinforced modules for non-invasive seismic-thermoacoustic redevelopment for existing buildings. It also builds high-tech structures for new anti-seismic and shatterproof buildings in "passive house" mode, which are quick to build.
With this in mind, this Italian startup was designed and created by ATMA Engineering in line with their way of doing industry following the choice of improving the green environment and protecting people.
Activity area:
Sustainable building
Telephone:
+39 0464 443340 +39 388 8147910