Energaid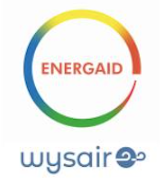 ENERGAID has been created to design and implement technologies for the transition towards sustainability and well-being using solutions the company owns and wants to create:
From an open innovation perspective, new, extraordinary generations of prefabricated elements for the enclosures of the rooms and containers (infill panels, facade cladding, roofing, thermo-controlled tanks, in collaboration with primary industries), useful for abandoning climate-changing techniques and more general combustion to achieve internal temperature control, for an excellent, innovative and competitive use of the renewable energies present on the site which is integrated in a completely invisible way.
IoT devices designed to allow the improvement of comfort, energy consumption and the healthiness of the air in closed environments, where we spend 90% of our life; starting from the room ventilation strategy, squeezed between the presence of pollutants of internal and external origin, in order to best apply the most recent recommendations from the scientific world for the reduction of premature death cases.
The company focuses on human well-being, has the planet's climate and resources at heart and imagines a world of buildings that are energy independent of climate change and combustion processes, capable of restoring adequate confidence in the air we breathe inside them.
Activity area:
Sustainable building
Telephone:
+39 0464 076657