FBI Football Identity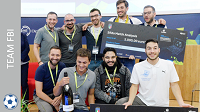 Football Identity aims to provide the card companies with tools and services to enhance the relationship with their affiliates. This platform supports access to services via web browsers and smartphone applications and uses an innovative token for user identification. The services offered are:
access to a differentiated player profile based on the age bracket of the cardholder, co-manageable by the parents in case of minors
integration of the profiles and the social network with the virtual identity of the cardholder
rewards system, personalized and focused on brand enhancement, as a means of encouraging fair play and participation in the user community.
Activity area:
Sport tech
Telephone:
+39 345 5298741 (Tommaso Montefusco)