Nojolia - Abbigliamento per stare in libertà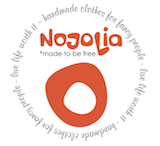 Children like to feel free. The Nojolia clothes are made to be free: every movement becomes easy and enjoyable. Our pants are the result of continuous and passionate research. Nojolia is a small project, beautiful and handmade. For this it is really in tune with the world of the smallest, and accompanies them over time naturally.
Nojola abbligliamento is a line created by designer Janne Geyer: sustainability and German manufacturing quality - Italian passion for fashion, materials and colors.
Activity area:
Abbigliamento per l'infanzia con materiali biologici
Telephone:
+39 328 2319069