BevoVivo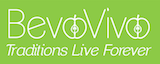 BevoVivo is a range of functional beverages that bring increased nutrition and health benefits to organic and biodynamic fruit juices. Utilising the ancient tradition of lactic fermentation, combined with cutting edge research in fermentation technologies, the company is producing an exciting new type of drinks that taste great, are naturally lower in sugars, higher in vitamins and rich in health promoting lactobacillus, thus better for the digestive health and for you!
By opening new markets to biodynamic produce, BevoVivo will support the establishment of the "greener" biodynamic farming practices; giving a valuable choice for farmers to greatly reduce chemical use on our precious farmlands. We are currently developing and characterising our drinks in order to bring this innovative and healthier juice choice to the European marketplace.
Activity area:
Biological and biodynamic beverages, sustainable agriculture
Telephone:
+39 377 6614069?