GRETELIT (GREen TEchnology Lab ITalia)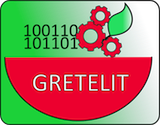 GRETELIT is a research center focused on radical approaches to green building: the exclusive use of natural materials.
The lifecycle of green building materials is completely ecosustainable in terms of manufacturing and end-of-cycle disposal. The raw materials used in manufacturing these products are derived from agricultural waste. The aim is to recycle and to carefully employ resources to make products not yet available in the market.
Business incubation formula:
Greenhouse
Activity area:
Bioedilizia
Telephone:
+30 0464 443 422 cell. 346 6861887